Over 400 Assignments Completed for More than 100 Clients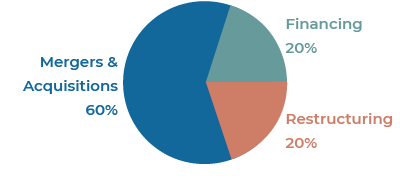 Founded in 1990, B&Co provides investment banking services to electricity generators in the United States. The firm has played a key role in financing, selling, purchasing, restructuring, or appraising more than 350 power projects with a total value of over $10 billion. Clients include independent power companies, lenders, industrial companies, utility affiliates and regulated utilities. B&Co has experience with biomass, coal, geothermal, hydro, natural gas, solar, wind, and other methods of power generation.


Mergers & Acquisitions
B&Co provides advice to buyers, sellers and other participants in power project related transactions. Results for clients include higher value, better non-price terms and more efficient use of staff.
Advised on restructuring and sale of troubled 30 MW project.
Prepared, auctioned and sold 75 MW biomass portfolio.
Evaluated, marketed and sold 30 MW biomass-fired project.
Analyzed, auctioned and closed sale of $20 MM gas-fired facility.
Advised lessor during renewal of lease on 75 MW biomass and coal fired project.
Auctioned site lease rights for 600 MW gas-fired facility.
Arranged meteorological study and lease options on two 100 MW wind projects.
Obtained multiple offers and closed sale of electric utility serving Prudhoe Bay, AK.
Evaluated, marketed and sold a $30 MM LC liability for a biomass project.
Analyzed, auctioned and sold a portfolio of six hydroelectric projects.
Provided a Fairness Opinion to a publicly-traded company in support of its purchase of a 115 MW project.
Financing
B&Co arranges equity and non-recourse debt financing for development, construction, repowering, acquisition and recapitalization of power projects.
Managed competitive debt and equity offerings to fund a 140 MW peaking project.
Arranged $25 MM replacement letter of credit to support tax exempt bonds.
Arranged a funding partner to complete a development stage 80 MW wind project.
Arranged a funding partner to complete a development stage 160 MW gas project.
Restructuring
B&Co advises clients on capital structure, restructuring repayments, breaking swaps and portfolio rationalization.
Advised lender on exposure concerning a distressed 30 MW hydroelectric facility.
Advised bank group on restructuring a distressed $600 MM coal project financing.
Created pre-payment plan to minimize $20 MM swap breakage costs.
Advised bank group on rescheduling minimum principal payment, mandatory pre-payments and swap breakage concerning a 29 MW natural-gas fired facility.